10 Essentials Your Kids Need to Carry While Hiking
This article may contain links from our partners. Please read our
disclaimer
for more information.
The best way to prepare before you head out on the trail, is to go through a checklist of the 10 essentials for kids.
Both adults in our family of 3 were scouts, so we're more comfortable when we're well prepared on either a hiking or camping trip. Safety is our priority.
This hiking essentials checklist is divided into ten categories to help you make sure you're packing only the basic items for survival so your kid's backpack isn't weighed down.
Most kids love carrying their own backpack and we've always encouraged our son to do so, especially on day hikes.
If you're going to hit the trail with your family anytime soon, plan ahead with our suggestions for the ten essentials for kids who love to hike.
What are the 10 Essentials?
The 10 essentials are basics that you'd need to survive a night in the wilderness.
Navigation
Light
Sun Protection
First Aid
Knife
Fire Starting
Shelter
Food
Water
Clothing
I've modified these adult 10 Essentials into the same list, but with kid specific items.
Navigation
Hiking is all about navigating the trail you're on. But what if you lose track of the trail?
Some trail markers are less obvious than others. If you and your little one get separated, navigation is a skill that will keep them safe.
A great idea is having your children carry a personal locator beacon so they can send an SOS signal with the push of a button.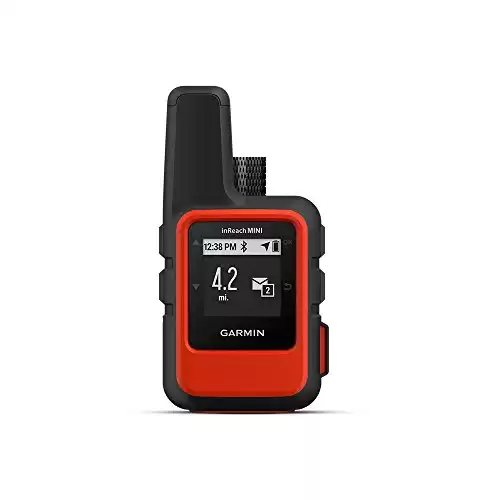 Navigation for Young Kids
When you're camping, a campground map is a good start for navigation for little hikers. Many campgrounds offer maps at the welcome center or office where you check-in.
Mark your campsite number on the top of the paper and circle it on the map. Highlight landmarks on the campsite and show your children how to follow the landmarks to find your tent.
Something my family does is write the campsite number and my contact number on my son's arm in marker. If he gets lost and can't remember where he's going, another camper can help.
Navigation for Teens
Older hikers have a better comprehension of how maps work. In a perfect world, Google Maps will load on a smartphone and your kiddo will be just fine. However, some campsites are a little off-grid, and you can't rely on having cell service.
For older kids, I recommend supplying them with:
Compass
Topographic map
Trail map
Campsite map
Go over the trail map and topographic map before you head out to explore nature. Show your teen how to navigate the map with a compass, and to keep the compass on them at all times.
Headlamp
Hiking after dark isn't a good idea for children. But sometimes the sun goes down quicker than expected. If your littles get caught out after dark, a headlamp is helpful. Headlamps are beneficial because they:
Keep hands free
Make kids visible
Keep light out of children's eyes
There are plenty of headlamps out there to choose from. Some of my favorites include:
Headlamp for Younger Kids
This whimsical headlamp has a brightly-colored space-themed band. It takes three AAA batteries and includes several light levels for indoor or outdoor play. I especially like that it includes a strobe to make kids visible if lost.
This is a great headlight for little ones because it has a quick-release safety measure. If a child gets snagged on a branch, the band releases.
Headlamp for Older Kids
For tweens and older, the Foxelli headlamp is a nice choice. It comes in several colors for picky pre-teens and charges easily with a USB cord. On one charge, this headlamp runs for 30 hours.
The Foxelli headlamp is waterproof and has a tiltable light to direct light flow. Like the Petzl TIKKID lamp, it has multiple settings.
Sun Protection
Sunburn can happen quickly, so extra sun protection is an essential item to have on the trail.
I usually coat my son in sunblock before heading out on the trail. Sunblock should be reapplied every two hours or as instructed on the product.
Our favorite sun screen is Blue Lizard Mineral Sunscreen.
Other items for sun protection include:
Sunhat
Sunglasses
Sunblock Stick (For older kids)
Sun Protective Clothing
Even a rain jacket will help block the sun in warmer weather.
First Aid
Anything can go wrong on the trail, so a hiking first aid kit is something I always pack. If your kids are like mine, they think a bandaid is the solution to every booboo.
On a serious note, having a first aid kit is an essential item for hiking. Lightweight first aid kits come preassembled from many outdoor shops, but you can customize your own at home.
Younger Kids
Anything a small child understands how to use properly can be included in a first aid kit. Some of the items I pack for my son include:
Band aids
Surgical Tape
Gauze
Anti-Itch Cream (for bug bites)
Antibiotic Ointment
Older Kids
The supplies above should be included in the first aid kit for older kids. You can also pack prescription medication such as:
The type of medication you pack depends on your child's age and ability. If your child hasn't taken these medications on their own before and can go without them, it's best to keep them in your own pack.
Knife
A simple swiss army knife or a small multi-tool is a great thing to have on your day hiking essentials list.
You'll need to gauge how ready your child is to use one. Obviously very young children shouldn't be given knives.
Most standard swiss army knives include tools such as:
Knife blade
Toothpick
Scissors
Nail File
Advanced models include additional features like:
Awl
Corkscrew
Bottle opener
Can opener
Screwdriver
Like other items throughout my ten essentials for kids, I recommend showing your kid how each tool works and talking about knife safety before they use it.
Fire Starting
Fire is important for heat and light if you lose track of the trail after dark. Fire isn't a safe choice for small children on their own. Instead bring items like:
Pocket flashlight
Glow sticks
Air-activated hand warmers
For older children, fire-starting materials might be a good addition to an emergency kit. Some items to consider include:
Lighter
Ferro Rod
Fire Starter Cubes
Fire safety is a big deal for young hikers. I recommend discussing the best places to start a campfire (away from brush and trees if possible), and the best materials to gather.
When we go camping, my husband and I let our son watch us build the fire as practice. He sees the right way to stack wood and light tinder. We also discuss staying back from the fire once it's lit, and why it's important not to light a campfire near long grass or dry brush.
Shelter
A shelter is important to protect hikers from the elements. This is the most overlooked category of the ten essentials, as most people don't want to admit they could be stranded overnight in the woods.
Whether you're spending an unplanned night in the woods, or you've lost sight of the trail marker and it starts to rain, access to a quick shelter will keep you warm and dry until you find help.
Two types of shelter that are light and easy for a child to carry include:
Solar Blanket
Solar blankets are made from mylar or polyethylene. Wrap it around your body to retain heat in the cold. It also reflects heat in the harsh sun. Solar blankets are water proof and wind resistant to deflect the elements while you take shelter.
This solar blanket is a little pricier than some of the mylar options, but worth the extra cost. I like that the polyethylene doesn't shred and tear like mylar blankets do. The bright orange color is also beneficial if lost in the woods.
The S.O.L. solar blanket weighs only 2.5 oz and measures 56" by 84". It's an easy item for your child to pull out of a backpack and wrap around themselves in the cold.
Emergency Tent
For older children, emergency tents are a good shelter option. These convenient lightweight tents don't include pegs or posts.
They come in small carrying bags and unfold into a one or two-person tarp-like structure. Tents are then tied to trees or propped up with sticks. If that's not possible, it's useable as a sleeping bag.
The Life Tent two-person emergency shelter includes a survival whistle and paracord. The whistle sounds at 120 decibels to be heard over wind and rain. The paracord is 20' long. The entire kit weighs only 8.7 oz and stuffs into a sack 5.25" by 3.25".
Even an older child will need some help learning how to use this tent. I recommend a practice run before your hike. Set it up once, and have your child attempt it a few times under supervision. The practice will pay off later.
Extra Food
Food is fuel, and kids need more of it than we realize. Most young children graze throughout the day, and snacks keep them energized.
You obviously want to have a good meal before you go. But if for some reason you get separated, it's important your little one has extra food on hand to stay alert.
Make sure your kids have easy to open choices and hiking snacks they like so they'll actually eat them.
Some of my go-to buys are:
Peanut Butter Packs
Protein Bars
Goldfish Crackers
Dried Fruit
Trail Mix
Jerky
Emergency food needs to keep kids satiated and energized. This is one-time fatty, caloric-dense ingredients are best.
Extra Water
This is one of the ten essentials that a lot of people are already carrying on a daily basis. Make sure each of your hikers has their own water bottle, so no one goes without.
The bottle should be accessible and easy to open independently. If you get separated, it's nice to know your child can reach and open their water without you.
Recently, I tried this one and loved it:
Yeti is a durable drinkware brand. This 12 oz bottle is insulated to keep water cold. It's dishwasher safe and has a leak-resistant, easy to open, cap. It also has a stainless steel exterior to protect it when dropped.
Your child may be used to carrying a water bottle at school. A little trick for hiking is to clip the bottle to a backpack to avoid it falling out during the hike. For the bottle above, Yeti offers a limited edition bottle sling to make carrying easy.
Extra Clothes
Hiking is better in layers, no matter what the weather forecasts. I can't tell you how many times a sunny day has turned cool without warning.
The key to packing extra clothing to your hike without adding bulk is light layers. There are plenty of brands out there catering to the thin thermal wear market.
No matter which brand you choose, be sure to include a base, mid, and top layer.
Base Layer
This layer includes items like a thin short or long-sleeved shirt and leggings in moisture-wicking fabrics.
Mid-Layer
The mid-layer adds insulation between your base and top layer. In the cool months, the best mid-layers are made of fleece.
Top Layer
Top layers are designed to fight the elements. They include items such as rain gear, a rain coat, windbreakers, or winter parkas, depending on the season.
As you dress your little one, explain the importance of each layer. Show them how to take extra clothing off and fold them up into their hiking backpack, or tie it around the waist.
Bonus Items
It's always useful to have a few extra tools on hand for added safety. The age-old adage, "It's better to have it and not need it than need it and not have it", is never truer than in survival situations.
A couple of the extras I bring along for my family include:
Whistle
If a child steps off the path or loses sight of you, a whistle will help you find each other again. Whistles produce a loud, high-pitched sound with minimal air. The alternative is shouting for one another. This is problematic because it could lead to voice loss, and then what do you do?
If you're looking for a whistle for your young hiker, I recommend this one:
LuminAid Camp Critter Kit
The Camp Critter Kit comes in a child-friendly travel bag. Your kiddo can choose from a hedgehog, bear, or chipmunk design. Inside you'll find a:
Whistle
Compass
Thermal heat solar blanket
36" (88.9cm) paracord
I like this kit because the cute critter bag appeals to young hikers. This makes it more likely they'll keep the bag on. It also contains important tools to keep kids safe. The whistle and thermal blanket alone is extremely useful if someone gets lost.
Bug Spray
Bugs probably won't pose a mortal threat to your children while day hiking, but they sure are annoying. Mosquitos and black flies also leave itchy bites and deer ticks can spread Lyme disease.
There are many types and brands of insect repellent out there. For the safety of little ones, I recommend choosing something with natural ingredients. This one is great:
EarthKind Stay Away Mosquitoes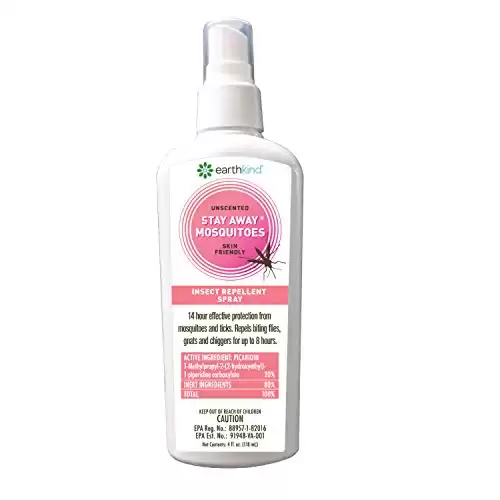 EarthKind is a natural bug spray and doesn't use chemical additives like DEET. The formula offers 14-hour protection against ticks and mosquitoes and uses odorless Picaridin.

I like this repellent because it does the trick without the harsh smell or stinging eyes. The formula is waterproof and safe to spray on clothing, with no residue.
Trekking Poles
For younger kids, trekking poles will just get in the way, but for older kids they may be a big help. On steep hikes the stability that a good set of hiking poles provides is amazing.
If I know I'm going on a longer hike, I always bring my hiking poles, they were a life saver in Havasupai Arizona.
Bathroom Gear
If you're going on a longer hike, or even just a day hike, it's a good idea to be prepared to answer nature's call. Toilet paper is something we always pack as well as my P-style urination device.
Hiking Boots
A good pair of hiking boots seems like an obvious hiking essential, but I've seen so many people hike in flip-flops that it blows my mind.
You and your kids will not get far without a good pair of hiking shoes or boots. You can even use trail runners if that's more your style.
Bear Spray
If you're going on a day hike in bear country, it's a good idea to bring bear spray. Only adults should handle bear spray.
Wrapping Up Our 10 Essentials List
I hope these suggestions for hiking essentials come in handy. The most important thing to remember when hiking with kids of any age is communication and preparation.
Make sure little ones know where the campsite is, have your contact information on hand, and are prepared with items to help them see, be seen, and be heard. Spend time before your next adventure going over these essential items so your kids know what to do in any situation.
As always, stay safe and have fun out there!
Happy Camping!
I'm Molly Foss, aka Momma Critter. I've been camping since I was 9 years old and I always wanted to be Robin Hood and live in the forest when I grew up. I'm excited to share my love of camping with my son as he grows up. My favorite thing to do while camping is roast marshmallows over the fire.