The Complete Guide to Baby Monitors for Camping
If you're a parent who loves camping, you always want to keep your baby safe while you're outdoors. One way to do that is by using a portable baby monitor when you're camping.
Camping trips are for getting away and relaxing but even the most rugged of parents get anxious leaving their baby in the tent or camper alone. A battery operated baby monitor gives you the peace of mind to take a break from parenting and enjoy some time to yourself.
We've scoured all over to bring you a list of the best baby monitors for camping. Read on for our tips on how to choose the right one for your needs. So if you're gearing up for your next camping trip and need a reliable baby monitoring solution, read on!
Why use a baby monitor while camping?
When you're creating your packing list we know you're trying to optimize space and leave anything you don't need at home. One of the things you'll be tempted to grab from the baby's room is the wireless baby monitor.
The problem with that is most baby monitors aren't truly wireless or battery operated. So the best option is to get a baby monitor that has been intentionally built to survive camping with your family!
Small Business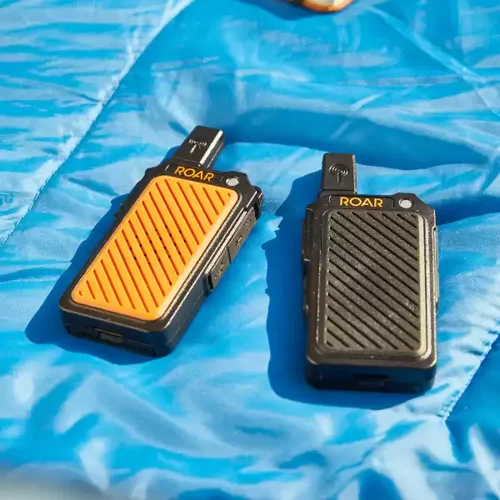 So with all you're already packing up for your adventure, why throw in the baby monitor? Here are the main reasons you'll find a portable baby monitor indispensable.
When you're trying to relax around the fire, the last thing you want to do is get up and check on your child all the time. (It's likely someone will take your comfy chair before you get back.) When you have a baby monitor for camping, you can check on them constantly by doing nothing at all.
Stop waking them by checking on them
Checking in on a baby when they're in a tent is difficult and occasionally loud. No one wants to wake up the sleeping baby while checking on them. Quite the opposite of the goal, right? Having a battery powered baby monitor means you can be sure they're sleeping without unzipping and crinkling the tent.
Stop noises before they wake everyone
Our first camping trip with Tiny Critter was nerve wracking because we were worried he would cry and wake the whole campsite. Having a baby monitor for camping is a good way to keep a close eye on your baby in the tent or the camper so you can get to them BEFORE they start wailing. No one wants to be the campsite to ruin the quiet time.
A good audio monitor can usually be turned to silent or vibrate mode. Silent mode is where sound level indicators alert you to how much noise your baby is making. Awesome baby monitors like the one from Roar Outdoors have a headphone jack so you can have the volume as high as you want without disturbing anyone else.
No need to worry about cords and power banks
Battery powered baby monitors are a great for camping because you can go on a rustic camping trip at a primitive site and still have a way to check on your baby without having to pay extra for an electric camping site.
Soothe your baby with comforts from home
If you can grab the monitor from your baby's nursery before embarking on your next camping adventure, it may help everyone sleep better. The vtech monitor we used had a night light, belt clip, high sensitivity microphone and a white noise option.
Our normal baby monitor did not have battery backup so we needed to bring a portable battery pack to power it. Only the parent unit was battery powered, so keep an eye on that.
What are the best types of baby monitors for camping?
Audio Baby Monitor
The most common camping baby monitor is one that gives you sound only. These monitors are easy to use and great for camping trips because they don't take a lot of battery power so you should get a long battery life out of them. All you really need is to hear if your baby is in distress.
Video Baby Monitor
If you want to be able to see your baby while they're sleeping, a video monitor is a great option. These monitors usually have a shorter battery life than audio-only monitors. However, being able to see your baby can give you peace of mind while camping.
If you're going to use a monitor with a video feed, make sure that it has auto night vision, meaning it switches to night vision automatically. Most video baby monitors with night vision will have that feature. If your video monitor doesn't have night vision, get a nice dimmable light for the tent.
The issues with video baby monitors is that you WILL need a battery pack or small generator to power it.
Walkie Talkies
We have amazing walkie talkies and they have a baby monitor function. It becomes an audio-only monitor once you turn off the push-to-talk button and set it to voice activated. Others have mentioned that you can use a rubber band to hold down the talk button on the baby side. The battery life is great on the ones we have and will easily last all weekend.
Make sure that you don't mix up which is the parent unit and which is the baby unit, or the baby will be treated to all of the campfire gossip. Also be sure to get a set of walkie talkies that have many channel options so you can have your own channel for a private and secure connection.
Having a walkie talkie set packed is always a good idea when camping. They come in handy to act as battery operated baby monitors, as well as helping keep track of kiddos when hiking.
Phone on call
If you're camping with someone else who has a phone, you can call them and leave the call open in the tent. This way you can check in on the baby from a distance without any battery power. Make sure to mute the phone on the parent side.
If this is your plan, remember to stay within range of your phone service provider so that all of your devices work reliably. You don't want to run out of cell battery when checking in on the baby monitor!
What baby monitor features do you need for camping?
Battery operated, or wireless baby monitors work even when there's no electrical outlet available, so you can rest assured that you'll always be able to hear your little one. Baby monitors that are truly battery operated on both the parent and baby side are RARE, so check the reviews closely.
Most often a longer range is better. If you're camping however, it's not likely that you're going to be more than one campsite away from your own site and your baby. The range on most portable baby monitors or walkie talkies is going to be good enough for camping. When I'm camping I'm never more than 100′ from our tent.
If you're camping with other people, noise level indicators can come in very useful. Instead of using the audio baby monitor you can switch to a visual mode and see lights indicating the noise level coming from your tent or camper. I used this mode a lot when my son was moving around and making noise but I didn't want to bother anyone else with having the speaker on at full volume.
If you're going to be using a battery powered baby monitor that has night vision, make sure it is an automatic setting. You don't want to have to sneak into the tent or camper to switch to night mode once the sun goes down.
This is a great feature for camping because you can talk to your baby from a distance. You can sing them to sleep or just check in on how they're doing without having to go into the tent or camper. This is more important for older kids who can answer you, and walkie talkies are perfect for this. We love using ours for camping.
If you want to be able to keep an eye on the temperature of the room where your baby is sleeping, make sure the baby monitor you choose has a temperature sensor. This will come in handy if you're camping in cold weather and want to make sure that your baby is not too cold.
If you want to be able to see your baby while they're sleeping, a video monitor is the best battery powered baby monitor for camping. These monitors usually have a longer battery life than audio-only monitors and can give you peace of mind while camping.
Some baby monitors for camping have all of these features, while others only have a few. Be sure to decide which features are important to you.
The Best Battery Operated Baby Monitor for Camping
We usually go tent camping, therefore having a battery operated baby monitor for camping is the BEST feature to have. If I'm honest, I don't need to know the temperature in the tent or have a night-vision camera when camping. I just want notification when the baby moves from fussing to full-on crying.
Be aware that most baby monitors will say that they're battery operated, but they are only talking about the parent unit.
A lot of parent units are battery operated and portable (my favorite had a belt clip) but the baby units need to be plugged in to ac power. So if you're looking for a truly battery operated baby monitor these two are the ONLY options:
Roar Outdoors Camping Baby Monitor
The Roar Baby monitor is the BEST baby monitor for camping. I wish I had something this awesome when my son was little. It has every feature I want in a camping baby monitor.
Small Business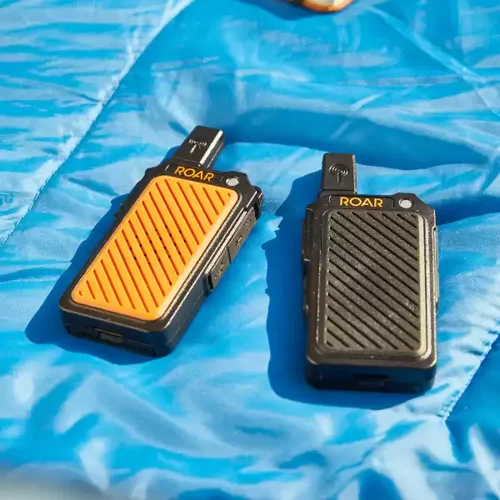 This monitor was designed to survive any camping trip your family goes on. It was purpose built to be drop proof and water resistant. With 1000′ of range and 20 hours of battery, this baby monitor will go further than you'll need it to.
I own this baby monitor now and cannot recommend it enough. The design team at Roar Outdoors literally researched all the features a battery operated baby monitor should have to withstand camping, and built them into one light-weight unit.
Roar Outdoors is a small business based in the USA, and as you all know, I love supporting small businesses over large conglomerates who are looking to own the whole alphabet.
TimeFlys Audio Baby Monitor
TimeFlys Audio Baby Monitor
2 Sets of Rechargeable NiMH batteries which can last about 10-12 hours on a full charge.
Parents can talk to and comfort the baby by pressing the talking button.
Parents can remotely control the night light for the baby anytime needed.
Low battery and out of range alarms with simple and easy operation.
Long Range up to 1000 ft, Temperature Monitoring and Warning, Lullabies, Vibration.
Buy Now
This monitor has a 2 way talk feature, 8 lullabies for a little white noise for your baby. There is a night-light on the baby unit that can be controlled from the parent unit. It also has a temperature monitoring feature if you're camping in colder weather and are worried about the tent getting too cold. Plus, it looks like a super cute penguin.
A fellow camper has used this baby monitor and she thinks it was amazing:
We went on a large camping trip with a group of 30 adults and 2 young babies. The other baby's family and I both used this battery-powered baby monitor in our cabins. This product allowed us to spend time with family outside of our cabins during the day while our babies napped or after they went down early in the evening.

It gave us great peace of mind having a way to monitor our babies without cell reception, where a phone app wouldn't be possible to use on a week-long trip like this. We also loved the added night light feature for middle of the night feedings and diaper changes.

K. Walsh
Best Portable Parent Unit
Vtech Audio Baby Monitor
This is the baby monitor we used at home. It has a battery operated parent unit, but the baby unit still needs to be plugged in. The parent unit is portable and has a hands-free belt clip. The baby side has a night light and a 2 way talk feature if you want to use your voice to soothe your baby.
If you have a power bank the Vtech audio baby monitor is a great option. It's also a great baby monitor option if you are camping in a trailer at an electric site. The baby side needs to be plugged in, but the parent unit can operate on batteries. We used this one when Tiny Critter was little and it was a great portable option. I loved that I could turn the sound down and have it vibrate instead of being loud. It's an amazing unit and we got a lot of use out of ours.
Buyer Beware
After a lot of research on popular sales websites, we've noticed a few things. We've mentioned that we've seen a lot of monitors that claim to be "battery powered" and they're only talking about the parent unit.
We've also seen a lot of units that are no-name brands with questionable reviews, some reviews imply the brand is soliciting reviews with free equipment. Other bloggers may recommend these units, while we do not.
The 3 monitors we're suggesting here were either used personally by us, or by fellow campers.
Having a baby monitor with you while camping will give you confidence and peace of mind to relax while camping. Kick it at the camp fire or go check on your camping neighbors without worrying about the baby.
Happy Camping!
I'm Molly Foss, aka Momma Critter. I've been camping since I was 9 years old and I always wanted to be Robin Hood and live in the forest when I grew up. I'm excited to share my love of camping with my son as he grows up. My favorite thing to do while camping is roast marshmallows over the fire.