27 Ways to Keep your Phone Charged When Camping
This article may contain links from our partners. Please read our
disclaimer
for more information.
Knowing how to charge your phone while camping in the great outdoors is important. We think using a multipurpose item to keep your phone charged is the best way, but there are so many different ways now.
One of my favorite things about tent camping is that it gives us a break from technology. But bringing a cell phone camping is essential. It's great for staying in touch with the outside world, but it's also good to bring for safety reasons.
Ways to Charge Your Phone While Camping
It's important to know how to charge your phone while camping. There are a number of ways, I've put these in the order I prefer them. (My best choice to charge devices at the top.)
1. Luminaid Lantern
The Luminaid Lantern is a lantern that will also charge your phone. These lanterns are perfect for an emergency kit because they're solar-powered. Charge your phone by day and light your tent by night.
The lantern has 150 lumens and 50 hours of use. The lantern can be used to charge any device with USB-A or USB-C compatibility.
The Luminaid is my favorite charging solution while backpacking. I'm already bringing the lantern, so the fact that it charges my phone and recharges itself with solar panels is amazing.
2. Goal Zero Lantern
The Goal Zero Lantern also lights and charges simultaneously. This product is more sturdy than the Luminaid and provides 600 lumens of light.
The lantern itself is USB rechargeable, but can also recharge with a hand crank, or solar panel (not included).
Charge your phone and other USB devices with the USB ports. This is my second favorite choice in the list of camping phone chargers.
3. Bluetooth Speaker
A Bluetooth speaker is a great charging option. Bring the tunes and keep your devices charged and ready for use.
This JBL Charge 5 Portable Speaker is waterproof and dustproof. It offers 20 hours of continuous playtime and charges with a USB port.
The JBL speaker uses a rechargeable battery and comes with a charging cord. It's best to charge up the power bank before heading to camp.
This isn't rechargeable like the solar-powered light options above. Not all bluetooth speakers have the built in USB power bank, so check carefully before buying one.
4. Anker Power Banks Battery Pack
Portable power banks are another option for charging devices. We often use power banks, they're quite portable and light.
For an idea of charging power, the Anker Power Bank can charge a Galaxy S five times, and an iPhone 8 six times. This is a good option for long camping trips and deep woods camping or backpacking.
We often bring a portable power bank on our camping trip to make sure that we can count on our phone's battery life lasting for the whole trip.
This power bank will charge phones, tablets, baby monitors, bluetooth speakers and so much more.
The battery pack takes 10 hours to fully charge, so I recommend charging it up the day before your trip.
5. Anker Solar Panels
Anker makes a variety of solar products that work with power banks. The portable solar panels are a great option for charging any camping device with a USB cable.
These solar panels are weather resistant and foldable for compact storage. They use solar power to harness the sun's energy.
Just set the panels in direct sunlight, attach your power bank and you're good to go. Some campers hang the portable solar panels from their backpack while they hike.
6. Portable Generator
Portable generators are best for car campers who bring a lot of electronic devices camping. They're like a big power bank.
This isn't just for your small devices either. We don't often camp with a generator, but we have and it's highly convenient when you're car camping.
This EcoFlow DELTA mini Portable Generator can power anything from your mobile phone to a microwave (yes a microwave).
This is an ideal tool for a glamper camper. If you like to spend time in nature but want the comforts of home, a generator or portable power station is the best charging option for you.
These are also great if you have a power outage at home as well. You can charge devices or power a space heater or the coffee pot!
7. Car Battery
If you're car camping your car battery is an excellent resource for charging your phone. You likely already have a charging cable in the car.
It's a good idea to check if you can charge while the car is off. You won't want to draining the car's battery with a charging device.
If you need to start the car, take a spin at a local grocery shop, or sightsee for half an hour as you use the car charger.
8. Biolite Stove
This is such a unique way to charge your phone. The first time I saw this stove that creates electricity from heat I was blown away.
The Biolite Stove uses heat energy to charge your phone. It doubles as a camp stove and battery generator.
The stove weighs only 2.06 lbs, making it easy to take on the go. It boils 1 liter of water in just 4 and a half minutes. (That's almost as fast as a Jetboil)
The stove includes an LED dashboard so you can see stats, including fire strength and power supply.
9. Shower Building
Many campsites have several buildings around. If yours has a shower building or nature center, it probably has standard AC outlets.
Use one of these buildings to recharge small electronics during the day.
Just be sure to follow camping etiquette and don't leave your charging phone in the bathroom during the morning or evening rush.
10. Electric Campsite Hook Up
RV campers use campsites with electric hookups. You can find many sites around the U.S. with electricity included in your campsite rental.
If you choose one of these sites, you can simply plug in and recharge as you would at home.
11. RV Neighbor
If you don't have a site with an electric hookup, you might be able to borrow some energy from an RV neighbor.
We've found that RV campers are some of the friendliest people you could meet on the road. It never hurts to ask if you can top off your phone's battery. The worst they can say is "no", after all.
There is a wide range of Nite Core Lantern products. These are essentially fancy flashlights with a lot of power storage.
Nite Core Lanterns range from 300 to 1300 Lumens and include a USB port and rechargeable battery. It's a great emergency staple for light and mobile phone charging.
13. Ranger Station
In a pinch, a nearby ranger station can help you charge your phone. Don't get stuck in the woods without GPS and a mode of communication.
There are more than 600 ranger districts in the United States.
Before you head out for your camping trip, look to see where your nearest ranger station is located. Mark it on your map, or input the details in your phone.
WaterLily is a unique power generator using river power. This is ideal if your campsite is near a water source.
The portable turbine includes a USB connection to charge a variety of emergency power needs, including your cell phone.
Running Snail is an emergency radio. It works by hand crank, and many models include a lantern and weather radio.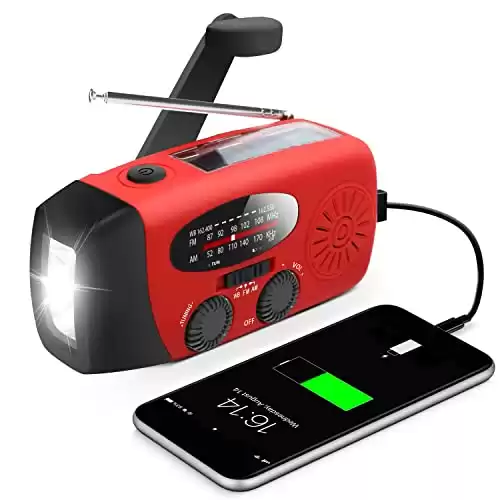 Along with these emergency devices, you can count on the Running Snail to charge your mobile phone, rechargeable headlamp and other USB-powered devices. 
There are several Running Snail products to choose from. Select the one that makes sense for your camping style. Some are larger and heavier. Look for small, lightweight products for long hikes.
I love this for bike trips. If you're on a bike camping expedition, a pedal powered generator is a great way to multi-task.
You're cycling anyway, so you might as well harness the kinetic energy from your wheels to power your phone.
With dual USB output, this compact device generates 1000mAH using friction. If your kids are biking around the campground loop for hours, might as well literally harness that energy.
17. Hand-Crank Chargers
Like the Running Snail, a crank powered charger use a crank to create energy. The energy is stored in the charger and can be absorbed by your mobile phone through a USB cord.
We love hand crank devices because they generally never fail. If you can turn the crank, you can use the device.
It's unlikely you'll get enough power for a full charge using a hand crank as a power source, but you can always keep your kids occupied with it!
18. Gas Generator
Gas generators are often used by RVers. Choose the size and amount of power output you need.
You'll find the higher the output, the larger the generator. If you're just charging your phone battery, you don't need anything this big.
Look for a generator with a CO sensor and recoil start. Read reviews before purchasing, because we find some of these get quite loud. You might want to run it minimally and only during the day.
If you're hiking to the middle of nowhere, this won't be the best option.
Reduce Battery Use of Your Phone
As you consider how to charge your phone while camping, think about extending your phone's battery life. Reducing battery use is a good way to prolong phone life. This minimizes the need for power charging on the go. Here are some ways we save our battery on the go.
19. Power Saving Mode
All modern smartphones have a power-saving mode. This is easily accessible through your settings.
On an Android, select:
Settings
Battery
Power Saver Mode (Switch to on)
On an iPhone, select:
Settings
Battery
Low Power Mode (Switch to on)
Power saving mode reduces notifications in real-time, lowers screen brightness, and halts apps that usually run in the background. This prolongs your phone's life.
20. Airplane Mode
We have camped in some truly remote places. One thing I've noticed is that no matter how little service there is, my phone keeps searching and trying to connect. As your phone searches for service, it drains the battery. I often use airplane mode to avoid this.
On an iPhone:
Swipe down from the top of your screen to access connectivity settings and click the airplane.
On an Android:
Select setting, network, and internet, and turn on airplane mode
Your phone also drains battery simply by remaining connected to data. Different data-driven apps run in the background, slowly draining your battery.
21. Reduce Screen Brightness
Turning down screen brightness is another battery saver. The brighter your screen, the more battery power you burn.
On an iPhone:
Swipe down from the top and use your finger to drag the bar down on the brightness meter.
On an Android:
Swipe up to display your apps, select settings, display, brightness level, and adjust
My phone (google Pixel 6) has a battery saving option to extend the battery life of my phone.
22. Avoid Flashlight Mode
Flashlight mode is useful, but draining.
It's tempting to use flashlight mode when camping, but it's better to use an actual flashlight or head lamp.
23. Don't Charge Accessories off of Your Phone
Talking about charging, some people use their mobile phones to charge other devices. This isn't a great idea if you want to maintain battery levels on your mobile phone.
Opt for a power bank to charge other electronics, and keep your phone ready for emergencies.
24. Keep Your Phone Warm
As your phone gets cold, it works harder to run apps and do the things phones do. Keeping your phone warm keeps it productive.
When not in use, put your phone in your sleeping bag, or keep it close to you and warm it with body heat.
Temperatures drop at night, so this is the prime time to keep your phone cozy.
25. Use One Phone at a Time
If everybody has a phone, rotate them. My husband and I take turns using our phones to save battery.
Use one phone for a day or two, then the other. This ensures there's always a phone to use in emergencies, or for fun.
I usually only use my phone as a camera and that doesn't use much power.
26. Turn Off Apps
We're all guilty of opening a variety of tabs on our phones. When you leave these apps open, they run subtly in the background.
Don't use an app for things like a baby monitor, there are baby monitors made just for camping!
On an iPhone, you can see how many apps are open by swiping from the bottom. Touch each app and swipe it up to close it. Close internet windows by opening your browser, touching the square on the bottom right, and exiting the windows you don't need.
On an Android, swipe from the bottom, hold for a moment, and release. Like on an iPhone, swipe the apps upward to close each one.
27. Don't Use GPS
Like many apps, GPS continues to run in the background. Turn off GPS to extend the life of your battery.
On Android:
Select Quick Settings by swiping down twice from the top of the screen
Select the Location toggle to disable location/GPS
On iPhone:
Select Settings
Privacy and Security
Location Services
Set Precise Location to off
Don't forget to turn GPS back on if you need to use your maps for any reason.
I'm Molly Foss, aka Momma Critter. I've been camping since I was 9 years old and I always wanted to be Robin Hood and live in the forest when I grew up. I'm excited to share my love of camping with my son as he grows up. My favorite thing to do while camping is roast marshmallows over the fire.